Suzanne Collins /The Hunger Games (комплект из 3 книг)
Тема: Литература на английском языке
Дата:14-09-2014 20:08:08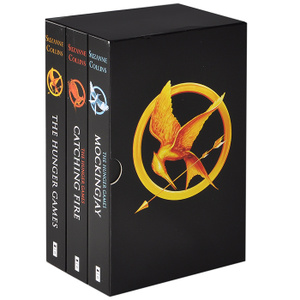 The Hunger Games (комплект из 3 книг)
Suzanne Collins
Foreign book (2011)
Содержание
Книга 1
The Hunger Games

In the ruins of a place once known as North America lies the nation of Panem, a shining Capitol surrounded by twelve outlying districts. Long ago the districts waged war on the Capitol and were defeated. As part of the surrender terms, each district agreed to send one boy and one girl to appear in an annual televised event called, "The Hunger Games", a fight to the death on live TV. Sixteen-year-old Katniss Everdeen, who lives alone with her mother and younger sister, regards it as a death sentence when she is forced to represent her district in the Games. The terrain, rules, and level of audience participation may change but one thing is constant: kill or be killed.

Книга 2
Catching Fire

Against all odds, Katniss Everdeen has won the annual Hunger Games with fellow district tribute Peeta Mellark. But it was a victory won by defiance of the Capitol and their harsh rules. Katniss and Peeta should be happy. After all, they have just won for themselves and their families a life of safety and plenty. But there are rumors of rebellion among the subjects, and Katniss and Peeta, to their horror, are the faces of that rebellion. The Capitol is angry. The Capitol wants revenge.


Книга 3
Mockingjay

Against all odds, Katniss Everdeen has survived the Hunger Games twice. But now that she's made it out of the bloody arena alive, she's still not safe. The Capitol is angry. The Capitol wants revenge. Who do they think should pay for the unrest? Katniss. And what's worse, President Snow has made it clear that no one else is safe either. Not Katniss's family, not her friends, not the people of District 12. Powerful and haunting, this thrilling final installment of Suzanne Collins's groundbreaking The Hunger Games trilogy promises to be one of the most talked about books of the year.
От производителя Вашему вниманию предлагается трилогия Сьюзен Коллинз "The Hunger Games".